Content drives interactions and engagement
Content is the fuel of social interaction on the Web: Nearly one-quarter (23%) of all social media messages and one-half (47%) of industry-specific social messages contain links to content, according to a new study by AOL and Nielsen. Amount of content shared per channel:
42% of all Twitter posts contain content-sharing links; 73% of Twitter posts related to a specific industry (auto, tech, finance, and entertainment) contain sharing links.

41% of all blog posts contain content-sharing links; 64% of industry-specific blog posts contain such links.

12% of all Facebook posts contain content content-sharing links; 22% of industry-specific Facebook posts contain such links.
About 27 million items of digital content are shared on any given day in the US.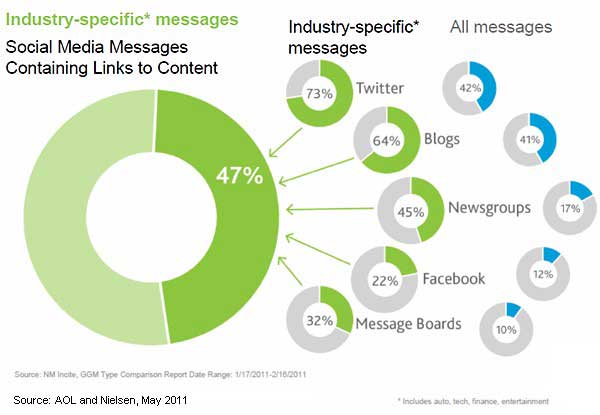 Other key points from the report were
53% of time spent on the Internet is directly attributable to content consumption.

Brands play a key role: 60% of all content-sharing messages specifically mention a brand or product name.

Email is the primary content-sharing tool among surveyed consumers (66%), followed social media (28%) and instant messaging (4%).
Consumers say trust and a desire to help people are key factors in deciding which content to share:
38% share information from people they trust.

36% share important information that helps others (e.g., traffic reports, how-to, community information).

35% share items about popular culture.

32% share information pertaining to common interests.
Most People Share via Multiple Platforms
Nearly all (99%) people who share content via social media also use email to share content